I decided to do a juice fast to get a jumpstart on my health this year. Eating healthier seems to be on the top of everyone's New Year's resolutions, so I wanted to share some tips! Let's begin by saying a juice fast is a bit misleading in the title. Yes, you are fasting from solid food, yet you are taking a high concentrate of nutrients in unlimited quantities. Drinking as much juice as you want, and lots of water too. A juice fast is more like a juice 'flush'. High Octane Jet Fuel nutrients in… while flushing toxins out! It gives your digestive system a much-needed rest. Your body spends most of its energy digesting your food and processing all the chemicals, toxins and sugars that inundate our food supply.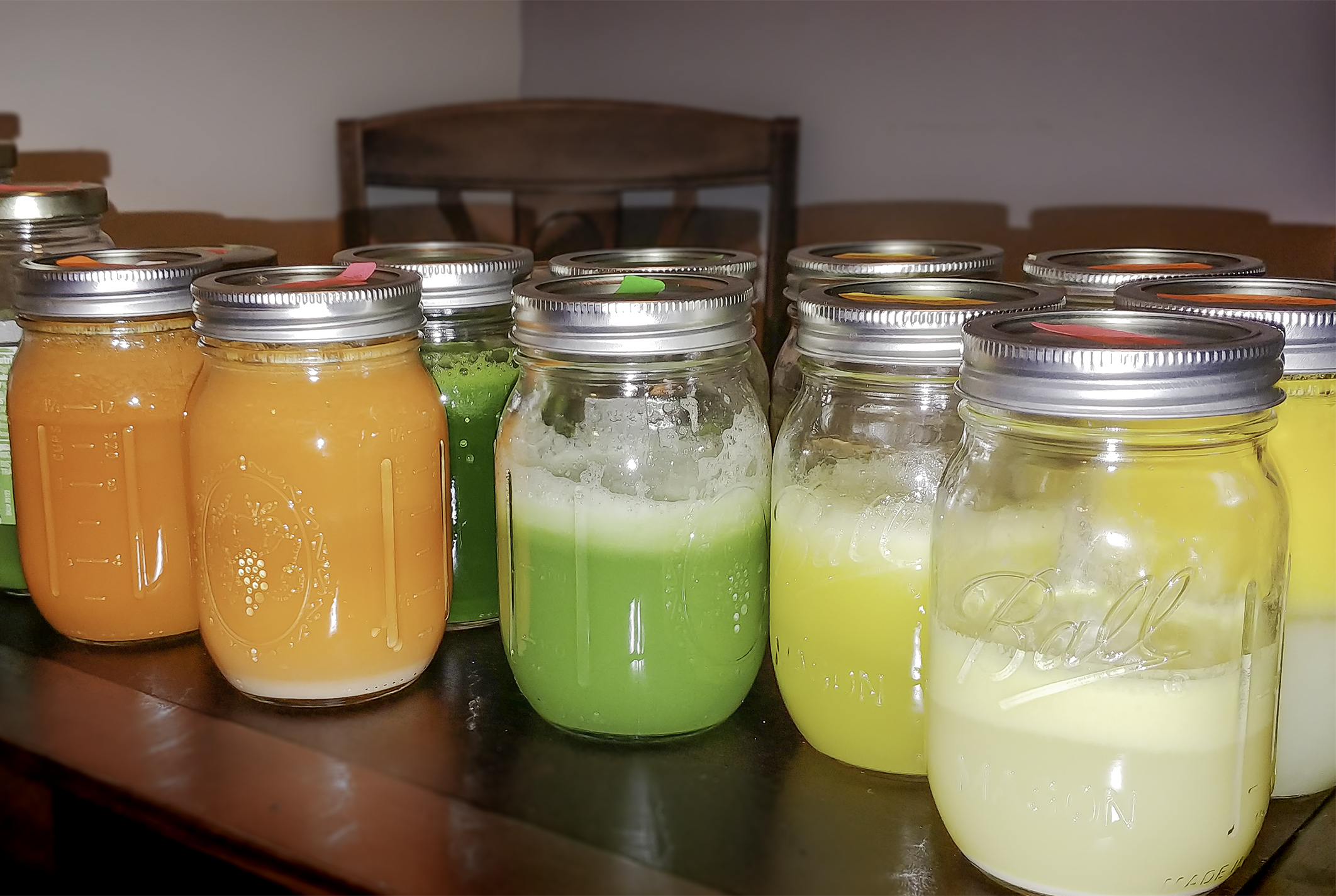 There are too many benefits to list! I encourage you to do more research on the subject. Many people have healed from a long list of ailments. I wanted to mention 2 important benefits. Doing a juice fast for 3-4 days, will 'Re-Set' your entire body and immune system. It will also trigger your body to start producing its own stem cells. You will feel more energized, and more alive! Who wants a fresh start for 2019?
The most important part of a juice fast is preparing for it! You will want to take 2-7 days to eliminate all sugars, salt, processed foods, caffeine, alcohol, and any other toxins from your diet. Focus on eating veggies, fruits and rice. Make sure to switch to an all Organic diet. This time is so important as you are slowly breaking your addictions to various toxins, allowing them to release slowly before the juice fast. If you jump right into a juice fast, you are literally shocking your body and many people get adverse side effects. So, be kind to your body, ease into it and take as long as you need. You can start to introduce 1-2 glasses / day of fresh juice into your diet during your prep. If you already enjoy a healthy diet you can do a minimal prep and you will feel amazing during the fast! Depending on your current diet and health conditions, you will want to talk with a Dr. and most importantly a Nutritionalist (who knows about juicing) before you begin. Google health benefits for different veggies while you are preparing for your fast.
Now it's time to start your juice fast, woohoo!! Make sure to buy only ORGANIC fruits and veggies, otherwise you are drinking highly concentrated doses of chemicals and pesticides. Plan on spending between $25-35/day on fresh produce. Juice will start to lose its nutrient levels once refrigerated, so I suggest juicing enough for 1-2 days max. Store in air tight glass jars for freshness. Remember you can drink an unlimited amount! To receive the maximum benefits, you want to juice mostly veggies with minimal fruit mixed in for flavor. I aimed for a 60-70% green veggie juice. Doing an all fruit (or mostly fruit) is really hard on your body, despite how good it tastes! You are retraining your taste buds, so don't be alarmed if things taste weird at first. Your body is remembering what real nutrients taste like. Using carrots and sweet potato can give juice a great flavor. Golden beets are milder than the red beets. Make sure to juice the beet tops too as they are packed full of nutrients! Note: beets color everything so don't be alarmed. Kale, spinach and broccoli are high in protein, so you will want to incorporate a lot of them in juicing. Kale and spinach are mild in flavor, so they are great to use as a base. Celery is another amazing juice to use. Fresh parsley and mint are great herbs to add to your recipes.
I always start juicing a bunch of lemons and ginger. You can add a splash (or more!) to every juice combination. Mornings, I like to start of with a citrusy juice before moving into my green juices for the day. My fav was approx. equal parts orange, carrot, sweet potato with banana, pineapple, lemon and ginger. Juices with cucumber as the base are very cleansing and cooling and great to alternate through the day. Peel fruits with wax and remove seeds, otherwise leave the skins on and juice away! Make sure to wash everything first. Have fun while shopping and try different things! I juiced everything from lettuces, to broccolini. I even juiced some sprouts. Fyi on the sprouts – each little sprout has the energy for an entire plant, so these I used sparingly. For the freshest nutrients possible you can plant a garden. There are also numerous community gardens in the area that you can join. Google recipes or check out local juice bars to try different combos.
Your body will tell you when you are ready to come out of your juice fast. Remember to ease back into solid foods. Start with rice and steamed veggies. Slowly introduce things like oils, spices, cheese and bread. Doing a juice fast once or twice a year can be hugely beneficial! You may even want to try extended 7-30+ days for an extreme cleanse. If your curious and want to try a few juices before you commit, I listed a few of my fav places below. Even if you decide not to do a cleanse, consider adding fresh juices to your diet. Every little bit of self-love counts! Congrats on making the choice to eating healthier and becoming aware of what you put into your body! Remember everything you eat either adds to your vibrant health or contributes to disease, the choice is yours.
My Fav Local Juice Bars!
Cacao Tree Café 204 W 4th St, Royal Oak, MI 48067
Try It Raw 213 E Maple Rd, Birmingham, MI 48009
Raw Organic Juice Bar 43300 W 11 Mile Rd, Novi, MI 48375
DROUGHT 28822 Woodward Ave, Royal Oak, MI 48067
Urge Juice 3628 Twelve Mile Rd, Berkley, MI 48072